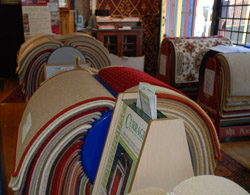 We offer a wide range of velvets, twists, saxonys, naturals, loop piles, & various patterns from the leading carpet manufacturers including Ulster, Axminster, Cavalier, Westex, Victoria, Cormar, Best, Louis de Poortere, Lano, Brockway, Hugh Mackay, Causeway-Lusotufo, Kingsmead, Manx-Tompkinson and Balta.
We also have an extended selection of quality synthetic fibre carpets (polypropylene, polyester, polyamide, etc) from Phloor, PFL, National Flooring and other leading wholesalers.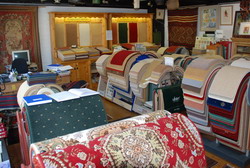 We can help make your ideas for your home a reality, with carpeting to suit any style of décor. Whether you propose a modern, minimalist look, or prefer a traditional large-patterned axminster, you're sure to find a suitable match from our extensive selection.
We recommend Floorwise & Tredaire underlays, both rubbers and polyurethenes (PU), such as Maxi, Supreme, Allure, Panache, and many others; the various underlays being particularly suited to certain situations. If hair-felt is required, we recommend "Ax-felt" from Ulster Carpets, which is a heavy-duty combination of wool & crumb-rubber.